Spring is well and truly underway in the UK. It seems to be happening earlier and earlier each year! When spring comes around the average gardener is itching to get out in their beloved garden. With plenty of jobs needing doing in the garden this time of year, and with Mother's Day just around the corner, I thought it was the perfect time to show you some of the best gifts for gardeners that are available on Amazon.co.uk right now!
Firstly, I have set out some 'must haves' that I believe every gardener should own. But keep reading, as further down I have found some bargains, if your budget doesn't stretch to giving these larger tools as gifts.
Many people don't see the merits of a border spade. In fact it is often erroneously referred to as a 'lady's spade'. The purpose of the narrower head on the spade is to get in between plants in a well stocked border. There are several other advantages of a border spade as well. Being smaller the force per square millimeter one exerts is greater. In other words, if you're on thick clay, or particularly hard packed soil, you need to exert less force to achieve the same depth of digging. Another advantage is that being smaller the sods of earth you dig up are smaller, and thus lighter, making tougher jobs more easy going. When choosing garden equipment I always go for stainless steel. Not only does it not rust, it is so much easier to clean. Believe me. This border spade will make the perfect gift for any gardener; be they male or female. It is also currently reduced in price by 22%! Buy it now, before it goes back up to it's normal price!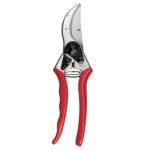 I've had my trust Felco No. 2s for over 20 years. They have lasted incredibly well, despite me putting them through some pretty rough work over the years. Personally, I wouldn't every go with any other maker of secateurs. I love Felco because they offer a lifetime guarantee. Although they offer a professional repair and servicing service, I have always found my Felcos to be easy to service myself (although I have rarely had to). Another great plus to this model is that the blades are easily replaceable. I remember many years ago, I took a chip out of my blade. I ordered a replacement blade, and it came in the post a few days later. I soon had them working as good as new. I know Felco can be a bit pricy (although this model is currently 25% off on Amazon.co.uk). However, with solid forged alloy handles, they will last you a lifetime, and work much better than a cheaper pair.
For anything thicker than your thumb, you're going to need a pair of loppers. I believe these are the best on the market. 
Now it's time for me to plug Finland a little bit. Every Finnish household has at least one pair of orange handled scissors in a drawer somewhere. Finns simply love the Fiskars brand. And with good reason. This Finnish manufacturer has a reputation for durable, quality tools. I first came across the predecessor to this model when I was working at the Lepaa college of HAMK near Hämeenlinna, in Southern Finland. A colleague of mine had a long standing wrist injury, and so she bought herself a pair of these ergonomic loppers, as she felt the ones the college supplied were too stiff for her. I was amazed at the easy action on these loppers! They have a kind of integral ratchet system that allows the user to easily prune stems up to 40 mm (although I am sure I have pushed them a bit past 40 mm in the past). The handles are made of a lightweight fibre-reinforced polyamide, so they are both strong and light. I found the cushioned handles to be very comfortable, even when using them all day. At the normal price of £63, they are not the cheapest. However, you can pick them up on Amazon.co.uk for less than £25 at the moment! That's a staggering 60% off!
Many people try and get away with using a rotary trimmer turned on edge  
to trim the edges of their lawns. However, even in the most skilled hands this often leads to scalping. Call me old fashioned, but I much prefer a good, sharp pair of long armed edging sheers. These handy sheers, from Spear and Jackson, are telescopic – perfect if you're buying them as a gift for another gardener! The carbon steel blades should stay nice and sharp, and will be easy to clean. They come with a 10 year guarantee. Hurry; at the moment they are reduced by 27% on Amazon.co.uk 
Sticking with the Fiskars theme, this trowel is a lightweight and durable all-purpose garden trowel. I know what your thinking. Yes it is plastic, but allow me to explain why I think this is a good gift for a gardener. When choosing a trowel, I would usually go for stainless steel, due to it being easy to clean. I happen to own this trowel, and I find it very easy to clean, and surprisingly strong! Considering how light it is, I was dubious about how durable it would be. But let me tell you, it is very strong. Also being one piece molded, there are no weak points, unlike some wooden handled metal trowels. Being plastic, it is very reasonably priced, and is currently on sale on Amazon.co.uk at a 24% reduced price.
Let me address the obvious question first. Does a gardener really need two trowels? Well the answer is yes, as they do two different jobs. While the Fiskars trowel is a good general purpose trowel for weeding, and breaking up compacted areas of soil, the Spear and Jackson trowel is more specialised. Although marketed as a 'Rockery Trowel', this nifty little stainless steel trowel  is also perfect for bulb planting and grubbing up those difficult dandelion roots. It also has measurements marked on the blade, for easily calculating the depth to plant bulbs.
Some Smaller Gifts for Gardeners
And finally a few smaller items for those on a tighter budget. Often when looking for gifts for gardeners one comes across lots of chintzy patterned aprons and kneelers etc. While it's nice to receive something pretty, most gardeners I know would prefer something practical that they can use.
OK, these gloves do look a little intimidating at first glance, but there is some sound logic behind them. I recently bought a pair of these for my mum, who is an avid gardener (It's in the genes). They are rubberised, so will keep your hands dry, clean, and safe from thorns. The claws are designed to aid in raking up leaves and debris, as well as digging holes in cultivated soil and pots. I don't often wear gloves in the garden, but when I do I want them to be a robust pair that will protect me from thorns. At under a fiver, these make the perfect thoughtful gift for a gardener.
Whether it be tea or coffee, I guarantee your gardener friend enjoys occasionally sitting back and admiring their work with a cuppa. I like this mug as it is thermally efficient, like any good outdoor mug, but it also has a good handle. Trust me, if you have dirty hands from gardening, you appreciate a mug with a handle.  This mug from Mountain Warehouse has a suction top that prevents spills. It is less than half price on Amazon.co.uk, putting it at under a fiver!
Forget a hand soap that smells like their favourite flowers. What any good gardener wants is a hand cleaner that really works. Trust me; Swarfega works! Whether your hands are covered in ground in mud, wood stain from the shed or fence, or oil from using the lawn mower – This hand cleaner will get your hands clean! It may feel like an odd gift to give a friend or relative, but if their used to getting their hands dirty in the garden, they will thank you for this! Again, this one is currently on sale at Amazon.co.uk, and is a bargain at under a fiver.  …it's almost like I've been scouring the sit to find you the very best deals at the moment..;)
There are a number of reasons gardeners love birds. Firstly it is simply a joy to see and hear them in the garden. Secondly, many species forage for tiny insects, thus helping to keep pests under control.  There are many fancy bird boxes around, but often the most used ones are the simple, functional bird boxes. This one has thick pine walls for insulation. It also happens to be quite reasonably priced.
Yes, you read that right. That's wine stake set, not wine and steak set! This set is a nifty idea. You and/or your gardener friend will be able to take you bottle of wine and two glasses out into the garden, and no matter where you are, be it on lawn, or sloping ground, you can sink the stakes into the ground, and have a convenient place to put your bottle and glasses. I think this is a great idea. Especially at under a tenner! 
I do hope you find something for the gardener in your life from my list here. Would you say I have forgotten anything? Do you already have anything on the list that you think is especially good? I would love to hear from you in the comments section below.